Daniel Kaegebein Obituary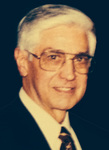 August 19, 1931
-
April 15, 2014
Born in Grand Island, New York
Resided in

(A) Getzville

,

NY
Obituary
KAEGEBEIN - Daniel P.
April 15, 2014, age 82, beloved husband of the late Alice M. (nee Sauer) Kaegebein; loving father of Marilyn Janiga, Linda (John) Chapman, Steven (Ana) Kaegebein and the late Sandra (Clay) Hoffmann; cherished grandfather of Amelia, Sara, Marc, Grace, Alisha and Ariana; dearest brother of Carol Gates; also survived by loving nieces and nephews. The family will be present on Friday, May 2 from 6-9 PM at the (Amherst Chapel) AMIGONE FUNERAL HOME, INC., 5200 Sheridan Dr. (at Hopkins Rd.). Family and friends are invited to attend a Memorial Service on Saturday, May 3 in Cleveland Drive Presbyterian Church, 735 Cleveland Dr., Cheektowaga at 10:30 AM. Please assemble at church. Flowers gratefully declined. Memorials may be made to Cleveland Drive Presbyterian Church where Mr. Kaegebein faithfully served the Lord as an Elder for many years.
***************************************************
Local engineer/entrepreneur and 1962 graduate of UB
leaves WNY and the world of RF communications
a legacy of inventiveness and fruitful Christian life

Daniel P. Kaegebein; Beloved Husband, Loving Father, and Cherished Grandfather, Faithful Friend, Entrepreneur, Engineer, Inventor, Generous Leader, and God's Servant
Born 19-August 1931
Died 15-April-2014; age 82, at Rosa Coplon Living Center, Getsville NY

Raised on a chicken farm on Grand Island NY, with parents Carl and Lillian (Dohn) and sister Carol, Dan was a fourth generation Kaegebein, a family of entrepreneurs with strong Biblical values. His great grandfather, Frederick Wilhem, immigrated from the fields of Mecklenberg, Germany to Buffalo in 1871 and Grand Island in 1886, where the family established farming as a living. But, the chief interest of Dan's grandfather, Charles, was always the Christian church. Their farm was a center for evangelical song and worship as Charles and Carl played the accordion and the entire family joined with harmonizing voices. Dan and his wife of over 56 years, Alice (who died in December 2013), later used their gifts for Christian ministry in their home church of over 50 years, Cleveland Drive Presbyterian Church in Cheektowaga NY. Humbly serving as Elder or Deacon and finding great joy in singing, they faithfully supported many missions of the Christian church.

Dan graduated from Tonawanda High School and after a two-year course at Cornell University College of Agriculture he left farming to pursue his interest in electrical engineering. Joining the U.S. Navy in 1953 he was assigned as a Radio Technician on the sea plane tender USS Salisbury Sound. After four years of active military service, including China Service, Dan was honorably discharged in 1957 and in August of that year he married Alice just prior to entering the UB School of Engineering to begin his new calling. He initially met Alice before joining the military when their church youth groups held a bowling function. Dan had the signature hook of a lefty and was also known to pitch horseshoes and softball left-handed. Dan went on to complete a five-year course of study paying his way through UB by working part-time for his father on the Grand Island farm and for Sinclair Radio Labs Tonawanda facility. After the first two of their four children were born, Dan and Alice purchased their only home, in Depew NY, where they raised their children and lived the remainder of their lives together. After UB, Dan joined Sinclair full time as their Radio Frequency (RF) Engineer and developed numerous products for the Land Mobile Radio market; Cavity Filters, Antennas, Duplexers, Multi-couplers, & Combiners. Although Dan did not continue with farming he did embark on a journey that followed his father's legacy as an inventor and businessman. In his lifetime Carl had acquired six patents of his own for his egg business.

In 1976, at age 45 with a wife and four children ages 8-18 at home, Dan took his most decisive step of faith leaving Sinclair to found TX RX Systems in Angola NY along with the late Elliott M. Johnson, and several local investors. Over the next 28 years their Transmitter (TX) and Receiver (RX) Systems business became a well known supplier of high quality RF products as Dan and Elliott built a lasting legacy based on genuine personable relationships. Dan's thirteen patents stand as a testimony of his passion for research and development. Most patents are still in use in TX RX products today which have been utilized in some of the world's most famous radio sites including the Empire State Building, the Sears Tower, and the World Trade Center. Notably, his first patent came within just four years of founding the company and by 1986 he had six patents. In 1980 he developed a Bi-Directional RF Amplifier (BDA) for use in the Motorola two-way radio system of the Inland Steel Coal mine in Illinois. This engineering feat allowed handheld radio communications from the surface down into the coal mine. The company manufactured a similar BDA product for the construction phase of the English Channel tunnel, and the largest BDA project it manufactured was for the New York City Transit Subway tunnel system.

TX RX Systems will significantly impact our communities for generations. It advanced numerous radio communication designs in support of public safety, first responders, government, private users, and the military to include parking garages, correctional facilities, courthouses, hospitals, malls, schools, rapid transit, airports, stadiums, and high-rise buildings. Growing the company to over 100 associates, Dan was very responsive to customer needs and he developed and configured products to fill their requirements. Dan was a kind, generous, fair, no-nonsense leader. Along with Alice they blessed everyone in their lives and were beloved by all.

TX RX Systems was sold to Bird Technologies in 1995. Dan and Alice retired from the company in 2004. In 2005 the UB School of Engineering and Applied Sciences established a scholarship in his name to recognize academic excellence in the RF and Microwave programs. Dan continued to do some consulting work for Comprod Communications in his retirement years, still coming up with innovative solutions which resulted in two more patents as recently as 2011/12. His success was not without the help of many others and his family acknowledges with gratitude the hard work and faithfulness of all who supported him. Dan also loved photography and with Alice they enjoyed visiting and documenting the lives of their children and six grandchildren. Dan's creativity, generosity, and humble service was a reflection of his Lord and Savior Jesus Christ whom Dan gave all the honor, praise, and glory.
Services
Visitation
Amherst Chapel
5200 Sheridan Drive
Amherst
,
NY
US
14221
The family will be present on Friday, May 2 from 6-9 PM at the (Amherst Chapel) AMIGONE FUNERAL HOME, INC., 5200 Sheridan Dr. (at Hopkins Rd.).
- Show more -
Cemetery
Private
Service
Cleveland Drive Presbyterian Church
735 Cleveland Dr.
Cheektowaga
,
NY
US
14225
Family and friends are invited to attend a Memorial Service on Saturday, May 3 in Cleveland Drive Presbyterian Church, 735 Cleveland Dr., Cheektowaga at 10:30 AM. Please assemble at church.
- Show more -