H. Hamlin, Jr. Obituary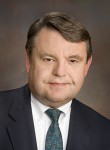 December 22, 1946
-
June 30, 2018
Born in Buffalo, New York
Resided in

Colden

,

New York
Obituary
HAMLIN - H. WARD JR.
June 30, 2018, age 71. Beloved husband of Emlynn (nee Samter) Hamlin; loving father of Steven R. (Jaclyn) Hamlin, Emma A (Matthew White) Hamlin and Grace E. (Brett Hodges) Hamlin; cherished grandfather of Emily and Nathan; caring brother of Susan Hamlin. There will be no prior visitation. Funeral Services will be held on Monday, July 16, 2018 at St. Paul's Episcopal Cathedral, 128 Pearl Street, Buffalo at 7 PM. Friends invited. If desired, donations made be made to Vocalis Chamber Choir. Arrangements by the AMIGONE FUNERAL HOME, INC. Share condolences at www.AMIGONE.com.
-----------------------------------------------
Buffalo News Obituary Version
Dec. 22, 1946 - June 30, 2018

Ward Hamlin, an attorney for more than 40 years, kept two large files of index cards.

The bigger one was called "Ward Law," which he used as a reference for legal matters.

"He was called upon by his colleagues for his vast knowledge of the law," his daughter, Emma, said.

The other one compiled information on his lifelong passion - music and choral singing.

"The choral societies called upon him," Emma said, "for his vast knowledge of music and music history."

Mr. Hamlin, a senior partner in the Buffalo law firm of Brown and Kelly LLP, retired in 2016. He continued performing until two weeks before his death, his daughter said, when he sang at a wedding.

He died June 30 in Millard Fillmore Suburban Hospital, Amherst, after a short illness. He was 71.

Born in Buffalo, H. Ward Hamlin Jr. was a 1964 graduate of Nichols School, where he joined the Glee Club. He continued singing at Hamilton College, where he earned a bachelor's degree in 1968, was manager of the Men's Ensemble singing group and was a member of Chi Phi fraternity.

He began taking voice lessons at Hamilton and continued them while he attended Albany Law School, where he completed his juris doctor degree in 1971.

Beginning his legal career in the Albany area, he also managed the Troy Music Hall.

"He once got a brief private performance from Yo-Yo Ma," his daughter said. "He also liked to tell about putting Kathleen Battle's performance gown in the trunk of my mother's Mazda."

Returning to Buffalo, Mr. Hamlin was a defense attorney for the St. Paul Travelers Cos. for 35 years and was a managing attorney in field litigation, overseeing cases across the state. He joined Brown and Kelly in 2007.

He frequently served as an arbitrator for alternative dispute resolutions and gave presentations on legal matters for insurance carriers, agents and corporate and municipal clients.

He was a member of the New York State Bar Association and the Erie County Bar Association, where he was chairman of the Practice and Procedures Committee. He also was a member of the Western New York Trial Lawyers' Association and the Defense Trial Lawyers Association of Western New York.

He was a tenor soloist with the Trinity Choir at Trinity Episcopal Church for many years. From 2004 until about two years ago, he was a member of the Gentlemen of St. Paul's Cathedral Choir and performed with the choir in England, France and Sweden. He served as a lay clerk with the choir and a warden with the church. He also was a board member of the former Friends of Music at St. Paul's.

At St. Paul's, he met James Burritt, the founder and director of the Vocalis Chamber Choir, and joined the elite a cappella ensemble. He traveled with Vocalis for its 2014 tour of England, which included an appearance at the Cambridge Summer Music Festival.

A former Hamburg resident, he lived in Colden since 1997.

Survivors include his wife of 31 years, the former Emlynn Samter; another daughter, Grace; a son, Steven; a sister, Susan; and two grandchildren.

Services will be held at 7 p.m. Monday, July 16, in St. Paul's Episcopal Cathedral, 128 Pearl St.
Services
Service
St. Paul Episcopal Cathedral
128 Pearl Street
Buffalo
,
NY
US
14202
Funeral Services will be held on Monday, July 16, 2018 at St. Paul's Episcopal Cathedral, 128 Pearl Street, Buffalo at 7 PM.
- Show more -
Charities
Vocalis Chamber Choir
401 McKinley Parkway
Buffalo, New York United States 14220