Marlo Schermerhorn Obituary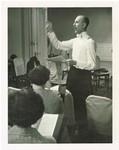 July 7, 1910
-
October 12, 2015
Born in Clay Township, IN
Resided in

Hinsdale

,

MA
Obituary
Marlo Keith Schermerhorn
1910-2015 HINSDALE, MA. Marlo Keith Schermerhorn, 105, of Hinsdale died Monday, October 12, 2015 at home. He was born in Clay Township, Indiana on July 7, 1910, the son of Matthias R Schemahorn and Lillian Mae Shoup. When Marlo was four, the family moved to Howe, IN. In 1915, Marlo's father, Matthias, switched from an unsuccessful farm implement business to selling automobiles directly under Henry Ford, to which Marlo enjoyed telling family the "inside stories". In Howe, he attended the Lima grade and high schools where he graduated valedictorian in 1928. He was active in sports, music, editorial writing and scouting. In the fall of 1928, he entered the Conway Band School, affiliated with Ithaca Conservatory of Music (now Ithaca College), Ithaca, NY. And by taking two summer terms and borrowing tuition money managed to complete the four-year course in three years.
Upon graduation, he was fortunate to secure a teaching post in Lancaster, N.Y. where he remained through his entire career. During his second year there, he was the only music teacher for about nine hundred students and had the band, chorus, music classes and taught all of the grade music. When he retired on July 7, 1965, the music faculty grew to thirteen teachers, of which he was department head for most of those years. Marlo held multiple offices including president of Lancaster Teachers Association, delegate to NY State Teachers Association, president and vice-president of Erie County Music Educators Association, chairman of Advisory Committee, president of Lancaster Historical Society, program co-chairman of Lancaster Centennial, chairman of three sectional all-state music programs, chairman of the all-county and contest-festival music programs and participated in numerous other offices.
While at Ithaca College, Marlo discovered that his family had descended from Jacob Janse Schermerhorn, a very early immigrant from Holland to the New World. That information was the source of his keen interest in family history and changed the spelling of his last name to correctly reflect that of his ancestor. In 1935, Marlo published the first history and genealogy of the Scamehorn family (showing the change in spelling throughout the years) and continued this research up until the early 2000's. The Lucas Jacobse Schermerhorn Family of America From His Birth to the U.S. Bicentennial Year (1676-1976) by Marlo K. Schermerhorn is the most famous of his genealogical works. In addition to his genealogical works, Marlo established a press company called Marleta Press, wrote and published numerous poetry and literary books including West From War.
While at college, Marlo met Cleta Belle Dromgoole on November 11, 1928 on a rainy afternoon. She was wearing a heavy raincoat and his pants were an "embarrassing" three inches too short. They were later married in June 29, 1932 in Ithaca, N.Y. in the backyard of friend, Maola Myer Blean. The couple's month honeymoon took them by an unfinished Mount Rushmore where the sculpting of George Washington's likeness was in process and continued on to Los Angeles for the 10th Summer Olympic Games. In 1932, they made their home in Lancaster, N.Y. At the time of Marlo's death, the Schermerhorns were listed #61 on Wikipedia's site for "100 Longest Marriages Ever".
In 1934, Mr. Schermerhorn started the Twin Village band. Soon after, Marlo and his wife, Cleta, founded men's and women's choral groups and directed the Lancaster Community Chorus for 25 years, performing at international festivals and competitions, including Carnegie Hall in 1950.
Also in 1934, their only son, Devon "Pete" Lee Schermerhorn was born, whom Cleta nicknamed, "Von". Marlo loved traveling with his wife, Cleta and son, Devon. The couple traveled to every continent, except Antarctica. During summers, they would take freighters on month long trips to places like New Zealand and Fiji. They drove one year from Buffalo, N.Y. to Peru, South America and another year across Eastern Europe during the Cold War. Each trip included a memento to be displayed in their Lancaster home. By 1986, Marlo and Cleta had visited over 75 countries and all of the United States. Their last international trip was in 1991 to Ireland and continued on to visit relatives in Isle-of-Man and England with their son Devon, as delegated chauffeur, since they couldn't find a car rental company who would rent a car to them at the age of 81.
In 1965, their traveling adventures including purchasing and living on 750 forested acres in Paraguay near the Brazilian border. They thought about growing coffee, and then the native sweetener, stevia, but a planting mistake of corn made them decide it wasn't worth the effort and sold the property to a German couple a few years later. The Schermerhorns made many visits to Aruba, where Devon worked at Esso Oil Refinery and also for the birth and raising of his two daughters, Linda Michèle and Tobin Renee. At the age of 100, Marlo and his wife, Cleta, 99, decided that it was not safe for Marlo to drive anymore and moved to Peru, Massachusetts to live with eldest granddaughter, Linda Michèle Schermerhorn. Their son, Devon, lived just a few miles away in Hinsdale, which made daily visits much easier. Marlo still enjoyed preparing meals for Cleta with the new living arrangements, but eventually decided to make residence at Sugar Hill Senior Living in Dalton, from February 2012 through March 2014. Towards the end of Cleta's life, when she became bedridden, Marlo and Cleta made their home again with granddaughter, Linda Michèle Schermerhorn in Hinsdale. During Marlo's final afternoon, Devon, came to visit to say his goodbyes to his father and Marlo passed away half an hour after Devon left.
Marlo was predeceased by his wife Cleta Dromgoole Schermerhorn. He was also predeceased by his brothers Howard Leroy Schemahorn, Elda Clyde Schemahorn, Matthias Roscoe Schemahorn and James Dale Schemahorn. Marlo is predeceased by his sister Gladys Marie Schemahorn Girton. His is survived by his sister Vada Arlene "Toots" Schemahorn Holzaepfel of Indiana; only son, Devon Lee Schermerhorn of Hinsdale; two granddaughters, Linda Michèle Schermerhorn and significant other, Edward Prew, both of Hinsdale and Tobin Renee Schermerhorn and husband, Robert Laschever of Frederick, Md.; nieces and nephews; four great-grandchildren, Melissa R. Schermerhorn Franco and her husband, Alan V. Franco Morales of Pittsfield, Jebadiah M. Moulton and his wife, Ashley Moulton of Cumming, GA., Brian S. Poplaski and his significant other, Kayla Raymer of Peru, and Nicole Schernerhorn Laschever of Boston, MA; seven great great-grandchildren, Alan V. Franco Uribe, Selena B. Schilling, Christian X. Marchbanks, Dante E. Franco Schermerhorn, Mathias I. Franco Schermerhorn, Sawyer C. Moulton, Emily P. Moulton. FUNERAL NOTICE: Calling hours for Marlo K. Schermerhorn will be held at the side of his wife, Cleta B. Dromgoole Schermerhorn on Thursday, October 22, 2015 from 4-7 PM at Zurbrick-AMIGONE FUNERAL HOME, 5615 Broadway, Lancaster, NY. Funeral service will be held Friday, October 23, 2015 at 11 AM at St. John Evangelical Lutheran Church, 55 Pleasant Ave., Lancaster, NY followed by a procession and burial service at the Lancaster Rural Cemetery, 70 Cemetery Road, Lancaster, NY. In lieu of flowers, donations may be made to the Lancaster High School Music Department. The family would like to thank all of those who have helped Marlo throughout the years, especially those in the Lancaster, N, Y. area when immediate family wasn't nearby; Maxine and Steven Awner and their two daughters of Williamsville, N.Y., Karen and Jim Pauly and their three sons of Lancaster, N.Y. and other countless neighbors; CNA's and staff at Sugar Hill Assisted Living; Melissa Schermerhorn Franco and his personal caregiver, Mary Moore, and the very helpful and caring staff at HospiceCare of the Berkshires.
Services
Visitation
Zurbrick Chapel
5615 Broadway
Lancaster
,
NY
US
14086
The family will be present on Thursday 4-7 PM at the Zurbrick-AMIGONE FUNERAL HOME, 5615 Broadway Street, Lancaster
- Show more -
Cemetery
Lancaster Rural Cemetery
6355 Braodway
Lancaster
,
NY
US
14086
Service
St. John Evangelical Lutheran Church (Lancaster)
55 Pleasant Ave.
Lancaster
,
NY
14086
A Funeral Service will be held on Friday from St. John Evangelical Lutheran Church, 55 Pleasant Ave, Lancaster at 11 AM. Please assemble at church
- Show more -
Charities
Lancaster High School Musical Dept.
177 Central Ave.
Lancaster, NY 14086