Obituary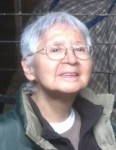 January 6, 1937
-
September 25, 2019
Born in Buffalo, New York
Resided in

Buffalo

,

New York
Obituary
Chambers, Mabel F.
September 25, 2019 at age 82. Beloved mother of Andrew C. Chambers; daughter of the late Robert and Mabel (nee Titus) Hill; sister of the late Dolores Hill Stanek, Earl Hill, Robert Hill and Dennis Hill; aunt of Gloria Guite Nowakowski, Frank Guite, Jr.; also survived by her many cousins in the Titus family. Mabel Chambers was Native American born in Buffalo NY to Seneca Indian parents, she was an enrolled tribal member of the Seneca Nation of Indians (Turtle Clan) and attended the Thomas Indian School, Irving, NY, was graduate of Bennett High School (class of 1954), Buffalo, NY; Sisters Hospital School of Nursing (class of 1956), Buffalo, NY; SUNY Buffalo/Cooperative College Center, College Preparatory Course (1973) now known as Educational Opportunity Center (EOC); State University of New York at Buffalo, B.A. degree (1981); University of New Mexico Law School, American Indian Law Certificate (1981), Albuquerque, NM; State University at Buffalo Law School, J.D. degree (1985). Mabel Chambers began her career in 1956 with the Catholic Health System/sisters Hospital, Buffalo, NY as Operating Room Surgical Technician for 56 years until her retirement in 2012 with ten year hiatus to obtain law degree and work for her tribe the Seneca Nation of Indians, Irving, NY as Staff Attorney (1985-91) duties that included Legal Researcher, Codes and Ordinance Developer, advise compliance with federal law Indian Gaming Regulatory Act of 1988 (IGRA); Co-Chair, Seneca Nation Salamanca Lease Negotiating Committee resulted in promulgation of federal law Seneca Nation Settlement Act of 1990; member, Seneca Nation Working Tax Committee on NYS Cigarettes & Motor Fuel Regulations resulting in tax agreement with NYS Dept of Tax & Finance presented to NYS Legislature; member, Native American Indian Standing Committee on Reburial & Repatriation rules and regulations in New York State seeking repatriation of human remains and artifacts, protection of Indian graves under NYS Parks law and federal law Native American Graves Protection & Repatriation Act (NAGPRA), also Legal Advisor to Seneca Nation of Indians Judicial Council (Peacemakers & Surrogates Courts Judges and Court personnel) and Police Commission (Law Enforcement Chiefs, Officers, Marshals and Conservation Officers). After a change in tribal leadership she left the Seneca Nation and returned to the medical profession full-time (four ten hour days) in Catholic Heath System and took additional two days work as "per diem" Surgical Technician with Kaleida Health / Suburban Millard-Fillmore Hospital, Williamsville, NY (1992-2012), a position she initially accepted to enable her repayment of student loans. She grew to love the camaraderie of her co-workers so much that she continued in both jobs for twenty years. Ms. Chambers was devout Roman Catholic, member The Secular Order of Discalced Carmelites; Altar & Rosary Society; parishioner Assumption Church, Buffalo, NY; volunteered at Fatima Shrine gift shop, Lewiston, NY and held memberships in many professional and cultural organizations over her lifetime such as Cub Scouts den mother, charter member Buffalo North American Indian Cultural Center (1972-73); treasurer, Indian Athletic Club Buffalo NY, promotion and preservation of traditional Indians game of Lacrosse (1972); Member & Chairman, Seneca-Iroquois National Museum Board of Trustees, Salamanca, NY (1985-91); member/Secretary, Legal Services for the Elderly & Disadvantaged, Board of Directors (1985-91). Mabel Chambers derived satisfaction assisting others in their time of greatest need whether hospital surgery patient, victim of legal injustice or random person outside the community of law and medicine, she was there for them. The family will be present Tuesday from 2-4 and 7-9 PM at the (Delaware Chapel) AMIGONE FUNERAL HOME, INC. A Mass of Christian Burial will be celebrated Wednesday, at 10:30 AM from Assumption Church, 435 Amherst St., Buffalo. Share condolences at www.AMIGONE.com
------------------------------
Buffalo News Obituary
Jan. 6, 1937 — Sept. 25, 2019

Mabel F. Chambers left an established career as a surgical technician in 1985 to become an attorney for the Seneca Nation of Indians, where her research and negotiations on a new land-lease deal between the nation and the City of Salamanca helped lead to the Seneca Nation Settlement Act of 1990.

Ms. Chambers, a Seneca herself, spent six years with the Seneca Nation conducting legal research on gambling issues and helping negotiate a tax deal with New York State over the sale of tobacco products and gasoline. She exited in 1991 when a new political regime took control of the tribal government.

Instead of pursuing other legal work, Ms. Chambers returned to her first career in medicine and worked for another 20 years in the operating rooms of area hospitals until a hip injury forced her into retirement in 2012.

"Work was like her sanctuary. She was always so at home in an operating room," said her son, Andrew Chambers.

Ms. Chambers died unexpectedly Tuesday in Buffalo General Medical Center following a brain aneurysm. She was 82.

Born Mabel Flora Hill in Buffalo to Seneca parents, Ms. Chambers attended the Thomas Indian School in Irving and was a 1954 graduate of Bennett High School. She studied nursing at the Sisters Hospital School of Nursing and began working in operating rooms as a surgical technician in 1956.

She returned to the college classroom well into her career and earned a bachelor's degree in sociology from the University at Buffalo in 1981. She continued at UB, earning a law degree in 1985.

Andrew Chambers said his mother was heavily influenced by past legal injustices to Native peoples, and she sought to work in Indian Affairs law because she wanted Native Americans to have better access to proper legal counsel at a time when very few Native Americans were lawyers.

"There wasn't just under-representation; there was no representation," he said. "If you needed help, it was a non-Indian attorney, if you could get them."

Ms. Chambers worked closely with Rep. Amory Houghton on developing the language for the Seneca Nation Settlement Act of 1990, legislation that authorized a federal payment of $35 million to the Senecas and extended by 40 years the expired leases of 2,800 parcels where Salamanca residents lived on Seneca-owned land.

By the time a new tribal administration was voted into office and chose to hire outside legal counsel, Ms. Chambers was ready to move on.

"She put 300,000 miles on her Honda Accord driving back and forth to Buffalo every day and all over the Southern Tier," said Andrew Chambers.

She returned as a surgical technician for the Catholic Health system in 1992 and also worked on a per diem basis at Millard Fillmore Suburban Hospital.

Ms. Chambers was divorced from Roger J. Chambers Jr., who died in 2011. She was a devoted Catholic and member of Assumption Church and the Secular Order of Discalced Carmelites. She served as a member of the Southern Tier Legal Services board of directors from 1985 to 1987.

She was a dedicated follower of Olympic-caliber figure skating, and she enjoyed horseback riding, swimming and tennis.

A Mass of Christian Burial will be offered at 10:30 a.m. Wednesday in Assumption Church, 435 Amherst St.
Services
Visitation
Visitation
1132 Delaware Avenue
Buffalo
,
NY
US
14209
The family will be present on Tuesday at the (Delaware Chapel) 1132 Delaware Avanue from 2-4 & 7-9PM
- Show more -
Mass of Christian Burial
Assumption Church
435 Amherst St.
Buffalo
,
NY
US
14207
A Mass of Christian Burial will be held Wednesday from Assumption Church, 435 Amherst Street at 10:30 AM
- Show more -