Obituary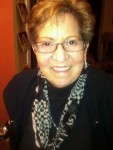 July 28, 1929
-
January 29, 2020
Born in Buffalo, New York
Resided in

Las Vegas

,

Nevada
Obituary
July 28, 1929 - Jan. 29, 2020

She didn't sing or play guitar, and never did imitations of Frank Sinatra, Joe Cocker or Kermit the Frog, but Mary F. "Mama" Scinta was an important part of the Scinta Brothers nightclub act for more than four decades.

"Everywhere we went, everywhere we played, she had a huge following," remembered one of her sons, Las Vegas entertainer Frankie Scinta. "She always sat right up in front, near the stage. We'd always introduce her. She'd always get a big ovation. After the show, at our meet-and-greets, she loved talking to people and answering questions about her kids. She was our biggest fan. ... She was really part of the act."

Mrs. Scinta, the Buffalo native who always encouraged her sons and daughter as they performed in cities all over the United States, died in Las Vegas on Wednesday. She was 90.

She died surrounded by family members at Summerlin Hospital Medical Center, following a long illness.

The former Mary Cappuzzo grew up in Buffalo, married a Buffalo firefighter and worked for 20 years as a city schools crossing guard at a West Side intersection near her home.

Her family members estimated that Mrs. Scinta attended at least 2,000 Scinta Brothers shows, beginning in Buffalo around 1977 and ending about eight months ago, when she saw her last Scintas show in Las Vegas.

"There were times when she would come to see us six times in a week, and she would do that week after week," said South Buffalo native Peter O'Donnell, the band's longtime drummer and a close family friend. "She may have seen us many times, but she told me she enjoyed every show. She said she didn't want to just sit around at home when her family was on stage performing."

Her death came 26 months after the death of her son, Joey, 69, a key member of the popular musical group. Joey Scinta died in Las Vegas in November 2017 after experiencing several strokes and other medical problems.

Mrs. Scinta and her late husband, Joseph "Bucko" Scinta were always the band's biggest supporters, beginning in the 1970s, when the group appeared in numerous Buffalo-area night spots. Later, Mrs. Scinta and her husband would travel with the band to dates in Ohio and other states.

"We would travel, and they would travel with us," O'Donnell recalled. "Instead of restaurants, we'd stop and have picnics at thruway rest stops. Mama Scinta would bring out the greatest homemade foods, and we thought it was fantastic."

Her husband of 49 years died in 1995. In 2000, when the Scintas moved their act to Las Vegas, Mrs. Scinta moved with them. They drew big audiences by performing an old-style nightclub act that included singing, dancing, jokes and imitations.

In a 2002 interview with The Buffalo News, Mrs. Scinta spoke with great pride of her sons, her daughter Chrissi - who then sang with the group - and their musical accomplishments. Mrs. Scinta recalled attending a feast the previous Thanksgiving at the Las Vegas mansion of singer Wayne Newton, who had become a family friend.

"Frankie sat down at Wayne's $1 million piano. Frankie was singing all these beautiful old songs, one after another," Mrs. Scinta said in the 2002 interview.

She said an emotional Newton sat listening with tears in his eyes and later told her he "never heard anything so beautiful in his life."

Mrs. Scinta was "a very tough mom, but also a beautiful, caring person who was always there when anyone in our family had a crisis or a problem," said her son Anthony, a retired Buffalo police detective.

"She loved being a city crossing guard, loved putting on that uniform every day," Anthony Scinta said.

Frankie Scinta said there was one very negative thing about having a mom who was a crossing guard.

"Every kid in the neighborhood would tell her any bad thing I ever did," he said. "She always knew, immediately."

He said his mother also took a short crack at acting for about two years, shortly after moving to Las Vegas. She appeared in the role of "Grandma Nunzio" in a production of "Tony n' Tina's Wedding" at one of the Vegas casinos. "She just loved that," Frankie Scinta said.

Frankie Scinta still performs with a group that included O'Donnell and singer Janien Valentine.

Mrs. Scinta also loved spending time with her 13 grandchildren, 18 great-grandchildren and one great-great grandchild. She is also survived by her two sons and her daughter, Chrissi Milkie.

Funeral services will be announced later. Her sons said Mrs. Scinta's body will be brought back to Buffalo for burial beside her husband.

"Mama Scinta, she created an empire," Frankie Scinta said.
Services
Funeral Home
Delaware Chapel
1132 Delaware Avenue
Buffalo
,
NY
US
14209